About a year ago, I laid my eyes on the most beautiful article of clothing that I had seen that day. It was the Burberry blanket poncho. As an avid fan of Burberry who watches all their shows, I was catching up with the Autumn/Winter 2014 collection that was presented the day before. Besides seeing which celebrities were sitting on the front row, I was excited to see the clothes of course. And the wonderful scenery and music that Burberry always showcases. Foremost, the collection was one of my favorites that I had seen Burberry come out with (high-five Christopher Bailey). The cut of the dresses, the layering, the sherling coats weeped me to my knees- in a good way of course. It was beautiful, absolutely beautiful, but at the end when all the models marched out in the finale, each adorned with their initialed blanket cape poncho thingy while Pamola Faith belted out "ONLY LOVE CAN HURT LIKE THHHIIS!" and the musicians are sliding their bows across their instruments passionately.
Man, it does hurt.
Since then, many celebrities have stepped out in their own, Burberry blankets with their initialed stitched that screams "Hey! I know you want this. Hahahaha but you don't because you can't FREAKING afford it haha." Darn it, thank you for silently telling me that.
Thanks to Burberry, high-street retailers are selling their version of the blanket cape poncho for people like me who can not buy it due to it's luxurious price.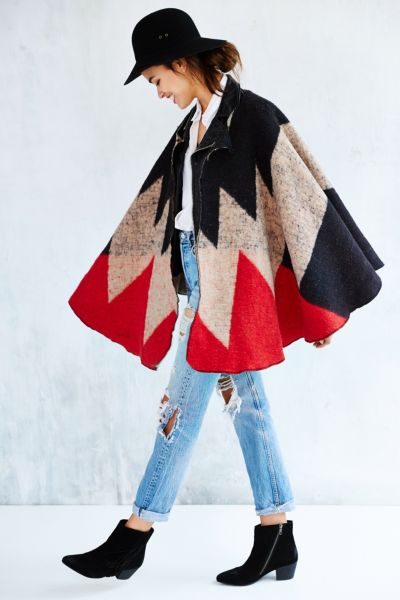 Topshop also had the blanket cape, seen above, but it is currently sold out online.
Not wanting to spend more money on clothing, I have figured out a solution to attempt to be apart of this trend. Grabbing my own blanket, that's checked by the way just saying, off of my couch, and wearing it across my shoulders. Yes, my blanket may be long, and it may ache my neck a little, but I shall try this trend out.
Plus, I also have an excuse to wear a blanket out in public.
Thank you Burberry, thank you (I'm not being sarcastic here. I do want to thank them).
Watch the amazing show in which the blankets are shown here: